Local whānau are now proud owners of their first home as part of Fletcher Living's affordable homes initiative built in the Kāinga Ora-led Mangere Development.

When Saima Qutab and her husband immigrated to New Zealand in 2018, they had money saved towards a deposit on a home but delays to their application for permanent residency caused by Covid-19 meant they spent longer renting than they had intended and their savings dwindled. "At the time we had to support our family back home (in Pakistan) because it's so bad at the start of COVID," says Saima.

Saima, a postgraduate research student and part-time tutor, and her husband Farasat, a librarian at the Mangere Library, with their nine-year-old son feel well and truly embedded into the local community. They are one of six whānau who were able to secure their own brand-new home. Saima and Farasat bought a two-bedroom terraced home for $600,000 which they will settle on when the new build is complete this winter.

Saima and Farasat are thrilled to have bought a home in the community that has welcomed them so warmly. "Now we are becoming true New Zealanders because we have our feet in the ground here," says Saima. "This is our place now. There's the feeling of true belonging to this land."

All of the home buyers interviewed for this article were able to access funds from their KiwiSaver to strengthen their case with the bank when applying for their mortgage.

Kenaz Vergis, 25, and his wife Loren, 23, were eligible for the First Home Grant to buy their two-bedroom terrace for $600,000. Kenaz is an electrical engineer and Loren is an early childhood teacher. "The biggest challenge for us was trying to save enough for the changing house market, and finding homes that were under the First Home Grant cap," says Kenaz.

The First Home Grant can provide between $3000 and $10,000 per buyer if you've been contributing to KiwiSaver for three years or more. If two or more buyers are eligible, each buyer can get a grant.

"That's a huge help, especially with the banks now wanting a lot more money," says Kenaz. "Plus, we only had to pay $5000 to secure this house, which is amazing. It makes a huge difference because it means our KiwiSaver is still working for the next six months [until settlement], so we can save a bit more."

The buyers all faced a similar steep learning curve as they went through the buying process.

Sales manager for Fletcher Living Sarah Beaumont says that when Fletcher Living was researching the market, many of the locals she spoke to did not know that the rent they were paying meant they could afford to service a mortgage. "The more I investigated what was happening in Mangere around affordable housing, the lack of rentals and the limited options to buy, the more it became apparent that many of the people I was talking to might be able to afford to buy, but needed a bit more of a helping hand with the education piece."

Fletcher Living distributed 39,000 flyers in Mangere advertising the homes to local residents or those who had a strong connection to the area two weeks ahead of a wider marketing campaign. The approach came about in response to Fletcher Living's commitment to Kāinga Ora to offer the homes in their development to locals first. Local residents, who had registered their interest in the development, were also contacted.

The team worked hard to help first-home buyers get over the line. "I have the most genuine team who truly believed that it was the right thing to be doing, and so spent a lot of time with the buyers talking through the process, recommending lawyers and mortgage brokers," says Sarah. "There was a lot of talk around 'you can do this. This is absolutely achievable'."

Kāinga Ora project director for Mangere James D'Anvers says it was a great opportunity to partner with Fletcher Living to provide more affordable housing options to local whānau. "As we're only in the early stages of the Mangere Development, we're continuing to investigate alternative housing options - such as progressive home ownership, shared equity and rent-to-buy - with our development partners, like Fletcher, to provide greater opportunities for local whānau to transition into homeowners," says James.

"We're committed to supporting more local whānau into warm healthy homes in Mangere."

Redevelopment officer for Auckland Council Victoria Swan's advice to other would-be first-home buyers is "don't give up".

Prior to hearing about the Fletcher Living homes, 30-year-old Victoria was about to put her dream of owning a home in Auckland on the backburner. "We were getting to the point where we thought it's never going to happen because the house prices were just so expensive. There's a time when all of our money was going on rent and bills; it was really difficult to save." Victoria and her partner, Paul Slaven, a scaffolder, bought a two-bedroom apartment in Mangere Development for $600,000.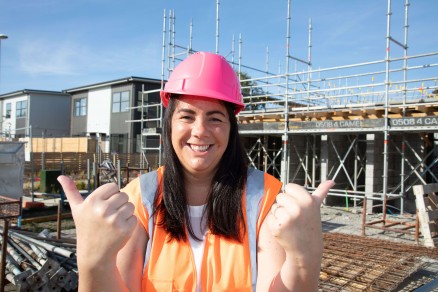 Pictured above: Victoria.

"Don't think that you're never going to get there," says Victoria. "Do research, speak to other people that have bought a home, look into the government schemes that we have available, and look into affordable homes initiatives like KiwiBuild. Sign up with developers because they send out emails to the people that are already registered with them in the first instance."

Victoria says they feel a huge sense of relief that they have been able to stay in an area they love. "We're feeling really lucky that we can actually just stay in Mangere because we were starting to look at places further out that we didn't particularly want to move to. We're really excited to be able to move into our new home."